The fact that Congress failed to act on student loan rates does not mean the world is ending.
Nor does it mean you will now go bankrupt or have to sell all your worldly possessions in order to pay back the money you borrowed for college. In fact, if you already have a student loan, your interest rate won't be affected at all.
If, however, you plan to take out a new student loan, your interest rate might double from 3.4 percent to 6.8 percent. That's right. "Might." Here are the facts:
What just happened?
Congress was unable to come to a decision on student loans by the deadline of Monday, July 1. As a result, interest rates on some federal student loans doubled. The key word is "some." Not everyone or every student loan is impacted.
Who is affected?
The doubling of interest rates only affects new, subsidized federal Stafford loans which, according to The Washington Post, comprise 26.2 percent of new student loans in 2013.
Most new student loans (55 percent) are unsubsidized federal Stafford loans, which are not affected by the rate doubling. Nor are PLUS loans (17.8 percent of new student loans) or Perkins loans (0.9 percent of new loans).
Also not affected are existing student loans – no matter what the source.
If I'm affected, how much will this cost me?
First, according to CNBC, the doubling of interest rates does not mean your payments will double. Mark Kantrowitz, publisher of Edvisors.com, said that on a 10-year repayment term, the monthly payment would increase about one-sixth.
Based on an average amount of subsidized Stafford loan debt at graduation of about $11,000, Kantrowitz said your loan payment would increase by about $24 a month based on a 10-year repayment plan.
Finaid.org, which Kantrowitz founded, has a loan repayment calculator you can use to fine-tune your repayment amount, based on interest rates at the time you graduate and begin paying back your loan.
When do the new interest rates actually kick in?
CNBC said that since most borrowers will not actually receive their new subsidized federal Stafford loans until school starts in the fall, the new interest rate would not be effective until then.
Actually, since you won't start repaying your loan until you leave school – depending on your year of graduation – you may not see money "out of pocket" for several years.
This is because the government pays the interest on your subsidized federal Stafford loan while you are in school. Therefore, you won't have to deal with accumulated interest when you do graduate – just interest on the balance at that time.
What are the chances Congress will retroactively lower interest rates?
Anything is possible, but since lawmakers are so far apart on key issues surrounding this subject, most observers are pessimistic about positive action following the July 4 recess.
CBS, which outlined the skirmish between the two major parties, said that while both sides are in favor of lower rates, the argument is over whether or not to tie student loan interest rates to financial markets.
What if I default?
While an extra $24 a month (on average) doesn't seem like a lot, for some people it's too much. Some people leave college with more than just subsidized Stafford student loan debt.
As a result, Yahoo Finance reported that those with student debt have a 19 percent chance of defaulting on their loan. Consumers with a personal loan have only a 14 percent likelihood of default, according to Vantage Score, a company that analyzes data from the three major credit-scoring agencies.
That statistic alone, Vantage Score said, can have a negative impact on your ability to get a credit card or other type of loan. While it isn't easy to default on a student loan, it can happen and when it does that only makes things worse. The Federal Student Aid website details just how important it is to make regular payments on your student loan when it is time to repay.
Related: The Impact of Student Loan Debt on the Economy
What if I Would Like More information?
The best source for information on student loans, interest rates, and repayment options is the Federal Student Aid website. There you will find up to date interest rates, information about all available loan types, eligibility requirements, and much more.
Related: Manage or Eliminate Student Loan Debt with IBR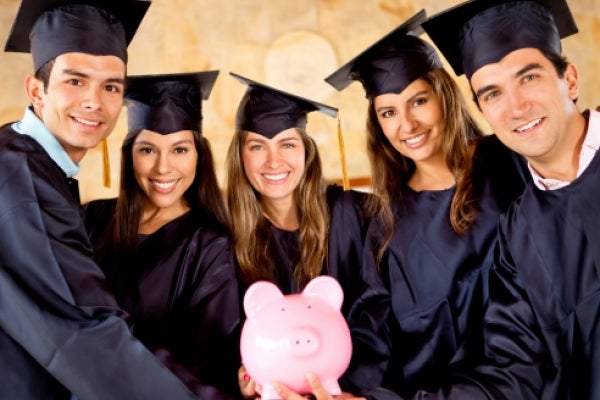 (c) 2013 Benzinga.com. Benzinga does not provide investment advice. All rights reserved.
comments powered by

Disqus