Caterpillar (NYSE: CAT), shares of which have pulled back lately after noted short-seller Jim Chanos said he was short the stock, is scheduled to report its second-quarter 2013 results Wednesday, July 24, before the markets open.
Caterpillar has grown increasingly dependent on China, with almost a third of its revenue and about half of its profit coming from there. Investors will be watching for signs that the economic slowdown and feared housing bubble in the People's Republic have impacted Caterpillar.
See also: Earnings Expectations for the Week of July 22
Expectations
Analysts on average predict that Caterpillar will report that revenue for the quarter declined almost 14 percent year-over-year to $14.97 billion. Earnings of $1.70 per share are also in the consensus forecast. That would be down from a reported profit of $2.45 per share in the comparable period of last year.
Note that the consensus earnings per share (EPS) estimate has slipped in the past 60 days from $1.75. And Caterpillar fell short of consensus EPS estimates in the previous two quarters by more than six percent, following a five-quarter streak of earnings beats.
The first-quarter report highlighted the company's cost management and inventory reduction efforts. Caterpillar also lowered its full-year revenue guidance and resumed its stock repurchase plan. The share price rose less than three percent in the days following the first-quarter report.
Looking ahead to the current quarter, the forecast currently calls for earnings down more than 24 percent year-over-year to $1.92 per share. That EPS estimate has fallen from $1.96 some 60 days ago. And revenue for the quarter is expected to be almost seven percent lower to $15.32 billion. Full-year revenue so far is expected to be down by almost 11 percent.
The Company
Caterpillar is a manufacturer of construction and mining equipment, diesel and natural gas engines, industrial gas turbines and diesel-electric locomotives worldwide. It also offers retail and wholesale financing for its products, as well as insurance brokerage services.
The company was founded in 1925, and its headquarters are in Peoria, Illinois. Caterpillar is a component of the S&P 500 and the Dow Jones Industrial Average, and it now has a market capitalization of more than $56 billion. Doug Oberhelman has been chief executive officer of the company since July 2010 and chairman of the board since November 2010.
Competitors include CNH Global (NYSE: DE). The forecast for the former, which also is scheduled to report at the end of the month, calls for modest growth of EPS and revenues relative to a year ago. The latter also is expected to post marginal revenue growth for the most recent quarter when it reports in August.
During the three months that ended in June, Caterpillar was a featured "cheap" stock in Barron's, it reported weak April sales in Asia, reached a tentative labor agreement with a union, hiked its dividend by 15 percent and announced layoffs in Wisconsin.
See also: Caterpillar to Acquire Berg Propulsion
Performance
Caterpillar has a long-term earnings per share growth forecast of 14 percent and a price-to-earnings (P/E) ratio of less than the industry average. Its operating margin is better than the industry average, and it has a return on equity of more than 28 percent. The dividend yield is near 2.8 percent.
The number of Caterpillar shares sold short, as of the June 28 settlement date, represents more than three percent of the float. That was up marginally from the previous period, but down from the year-to-date high at the end of March. Days to cover was more than three.
The consensus recommendation of analysts surveyed by Thomson/First Call who follow the stock has been to buy shares for the past three months. None of them recommend selling. The analysts' mean price target, or where they expect the stock to go, is almost 11 percent higher than the current share price. But note that target is less than the 52-week high.
The share price has fallen more than 12 percent in the past six months. The stock experienced a death cross back in April, and the share price remains lower than the 200-day moving average. Over the past six months, Caterpillar has underperformed the competitors mentioned above and the broader markets.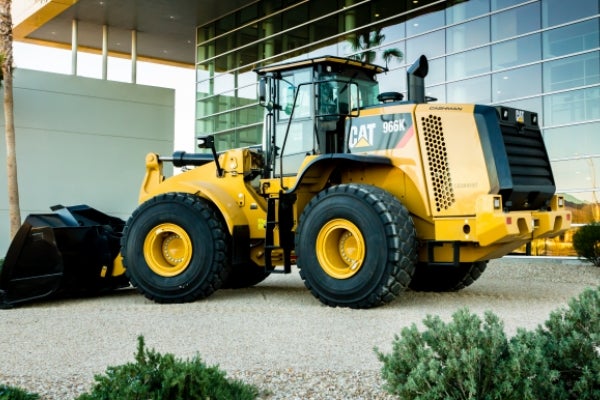 (c) 2013 Benzinga.com. Benzinga does not provide investment advice. All rights reserved.
comments powered by

Disqus