Global stock indexes in the U.S., Asia and Europe are poised to rise more in the coming months due to several promising trends, according to a report in Bloomberg. Four big reasons are: reflation in China, rising commodities prices, loose liquidity and subsiding investor fears.
Forecasts of annualized real GDP growth for 2017 and 2018 are, per the OECD: the U.S., 2.1% and 2.4%; China, 6.6% and 6.4%; Germany, 2.0% and 2.0%; France, 1.3% and 1.5%; the U.K., 1.6% and 1.0%; Japan, 1.4% and 1.0%; the OECD total, 2.1% and 2.1%.
The 4 Reasons in Detail
First, producer prices are increasing in China, and this normally is a harbinger of stronger economic conditions in Europe and the U.S., Bloomberg says. This, in turn, should add impetus to the global rally.
Second, the prices of key commodities such as oil, iron ore and copper have risen by 20% or more since their second quarter lows. Strategists at JPMorgan Chase & Co. (JPM) cited by Bloomberg take this as a bullish indicator for the global economy as a whole, and for energy and materials companies in particular. Moreover, if commodities prices stabilize at current levels, companies in the U.S. and Europe may see sales increase by about 5% in the third quarter, versus the same period in 2016, also according to JPMorgan, as reported by Bloomberg.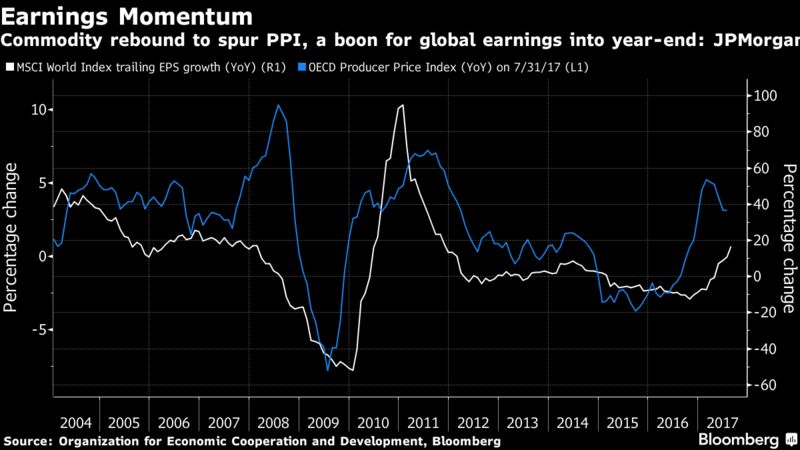 Source: Bloomberg
Third, loose liquidity conditions are bolstering global growth. Persistent low interest rates, and a relatively flat yield curve, are encouraging investors in the $14.1 trillion market for U.S. Treasury securities, are compelling investors to seek riskier assets, such as junk bonds and emerging market debt. The weak U.S. dollar, Bloomberg indicates, is one manifestation of these loose credit conditions. The weak dollar, meanwhile, boosts the value of overseas profits earned by U.S. corporations, as the Wall Street Journal points out. (For more, see also: Global Trade Outlook Clouded by Policy Uncertainty.)
Fourth, Hurricanes Harvey and Irma have passed, and while they proved to be destructive, they now longer represent fears of the unknown. Additionally, worries about military threats from North Korea seem to be diminishing, Bloomberg adds. (For more, see also: How Stocks, Economy Will Suffer From Irma, Harvey.)
Rising World Stock Markets
The S&P Index (SPX) is up 11.5% for the year-to-date through September 12, and up 2.8% since the close on June 12. The MSCI World Index is up 19.2% and 3.3%, respectively, for the same periods, per MSCI Inc. The two most-followed European stock market indices, meanwhile, have fallen during the last three months. For London trading, the FTSE 100 Index is up 3.6% YTD but down 1.5% since June 12, per Google Finance. For Frankfurt trading, the DAX Index is up 9.1% YTD but down 1.3% since June 12, also according to Google Finance.