Five key forces are helping to push stocks to their best performance since 2009, as well as boosting the prices of other assets, even in the face of threats from higher interest rates, geopolitical shocks and rich valuations, according to Bloomberg. These forces are: underperforming equity managers playing catch up; tax reform; improving economic fundamentals; plentiful uninvested cash; and demand for bonds exceeding supply. We'll examine each force in turn.
Meanwhile, analysts at HSBC Holdings PLC (HSBC) are advising investors to buy on the dips, Barron's reports. They admit that valuations are high and expect a slowing of earnings growth. Nonetheless, they see solid economic growth worldwide, and revised their GDP forecasts upward for 2017 and 2018. Additionally, they project continued low inflation, which will help keep interest rates low, thus propping up equity valuations.
Playing Catch Up
The majority of hedge fund managers and active mutual fund managers have underperformed versus key benchmarks during the first three quarters of 2017. For example, among the 100 biggest equity mutual fund managers worldwide, the median result so far in 2017 has been merely to meet the benchmark return, according to analysis by JPMorgan Chase & Co. (JPM) cited by Bloomberg. The long-term trend is equally unflattering for active managers, per the chart below from the same sources.
As a result, active managers are under increasing pressure to justify their fees, not to mention their very existence. Indeed, JPMorgan Chase projects that outflows from actively-managed funds to passive funds, such as index funds, will hit $254 billion this year, matching 2008 levels. The bottom line: JPMorgan Chase expects active managers to bid up equity prices as they chase high-flying stocks in a desperate bid to close the performance gap.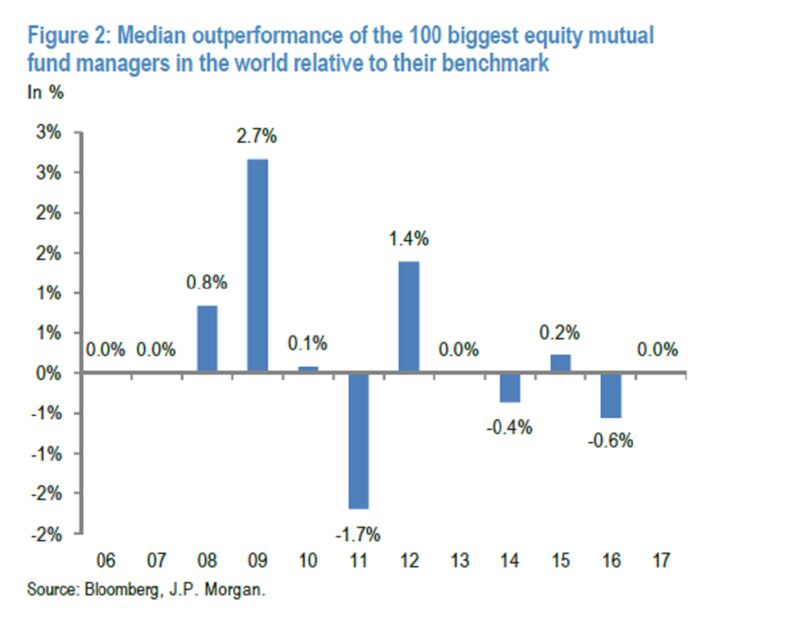 Tax Reform
Cautious optimism seems to be building that tax reform legislation eventually will gain passage, Bloomberg says. Analysts at Morgan Stanley (MS) indicate that one effect of tax break on the repatriation of overseas cash would be to limit the supply of corporate bonds, thereby pushing down yields. That, in turn, would be another prop for equity prices, in addition to improved after-tax profits from a reduced corporate tax rate. (For more, see also: 5 Stocks That May WIn Big From Tax Reform.)
Economic Fundamentals
Manufacturing output in the U.S. grew at the highest rate in 13 years last month, Bloomberg says, adding that "Global growth is faster, firmer and more sycnhronized than it has been in years." Meanwhile, Nomura Holdings Inc. of Japan deduces a long-awaited uptick in global productivity, given that GDP growth is improving in advanced economies at the same time that inflation forecasts are trending downwards, for the first time in nearly two decades, per Bloomberg. (For more, see also: How Google, Facebook, Amazon Will Ride The AI Wave.)
Uninvested Cash
A large number of investment managers are sitting on above-average cash holdings, according to studies by HSBC and JPMorgan cited by Bloomberg. Additionally, the same sources indicate that bond find managers are reducing the duration of their portfolios. As a result, there is an ample supply of uninvested cash ready to "pounce on selloffs," as Bloomberg summarizes HSBC's analysis. Meanwhile, the unwinding of hedges put in place to guard against interest rate hikes may offer more support to equity prices, JPMorgan indicates, per Bloomberg.
Limited Bond Supply
When the supply of bonds is insufficient to meet demand, bond prices are bid up, interest rates go down, and stock valuations increase. As noted above, passage of a tax break on overseas cash repatriated to the U.S. will depress bond issuance. Right now, Bloomberg reports that dealer inventories of high grade corporate bonds plummeted from $8.6 billion to $3.5 billion from September 20 to month end. Research from both HSBC and JPMorgan, as cited by Bloomberg, indicates strong global demand for bonds that is gobbling up new issues and pushing down interest rates, with low core inflation rates being a driving factor.