As the bond market's bull run seems to be running out of steam, many institutional bond investors are now selling 30-year Treasuries as they expect the Fed to play catch-up and quickly raise rates. This may push the $13.9 trillion Treasuries market to an inflection point and break a three-decade long trend of falling yields, according to a story in Bloomberg. (For more, see: Investor Warning: The Bond Rout May Not Be Over.)
End of a Record Bull Run
Since the financial crisis of 1987, bond yields around the world have ridden a downward trend, with the U.S. Fed Funds rate nearing 20% in the late '80s to a record low of near zero percent (between 0.00-0.25%) for nearly a decade following the 2008 crisis and Great Recession. A number of global macro events kept rates falling, including alternating periods of relative economic stability and crisis - such as the dotcom bubble, the U.S. housing bubble, the Eurozone crisis, and Brexit to name just a few examples. With each of these events, interest rates were systematically depressed as monetary policy eased to encourage demand, and as demand for borrowing itself waned. In the past decade, new and unorthodox policy tools have been deployed such as quantitative easing (QE) and negative interest rates, which have put even more pressure on this trend. Of course, as interest rates fall, the prices of bonds rise - thus, powering a decades-long bull market in bonds.
Now, as the U.S. economic recovery seems to be taking hold with slow but steady GDP growth and headline unemployment below 5% for a number of months, the Fed has begun to incrementally increase interest rates. At the same time, Trump's election win and his proposed economic policies have analysts believing that inflation, a strong dollar, and a growth-oriented government will keep the Fed hiking rates. Indeed, the Fed has remarked that it intends to raise rates to keep up with growth and inflation over the coming year. (See also: Bonds Lower, Dollar Higher On Inflation Expectations.)
Market's Inflection Point
In this environment, investors are not only beginning to sell shorter term and corporate bonds, but long maturity government debt as well. According to Bloomberg, Prudential Plc is among those big financial firms selling their 30-year U.S. Treasury holdings. Bloomberg also reports that, notably, Bill Gross of Janus Funds (formerly of PIMCO) has declared the Treasury market is now at an inflection point, or turning point. In a note to investors, Gross also points to 10-year yields, stating: "hope for stronger growth via Republican fiscal progress/reduced regulation/and tax reform have encouraged risk." He sees 10-year yields as an indicator for whether or not this growth-oriented sentiment is justified, or simply some short-term hype. If the 10-year breaks above 2.6%, that would indicate the inflection to a bear market has indeed occurred. The yield on the 10-year is currently 2.38%.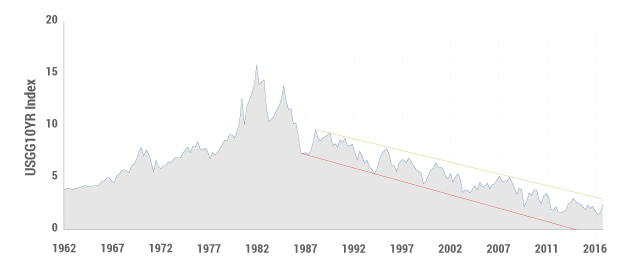 The Bottom Line
As the 30-year bull market in bonds comes to an end, investors are selling off bonds, including longer term maturities such as U.S. Treasuries out 10- and 30-years. Former PIMCO head, Bill Gross, now at Janus, is keeping an eye out for 2.6% yield in the 10-year government debt as confirmation that an inflection point has been achieved. Meanwhile, he and other large firms such as Prudential, are offloading 30-year Treasuries to the market.